I am honored and excited to be presenting a workshop and keynote address at Oregon State University for the OSU Pride Center's "Queer History Month: Queer & Trans Futures" line-up: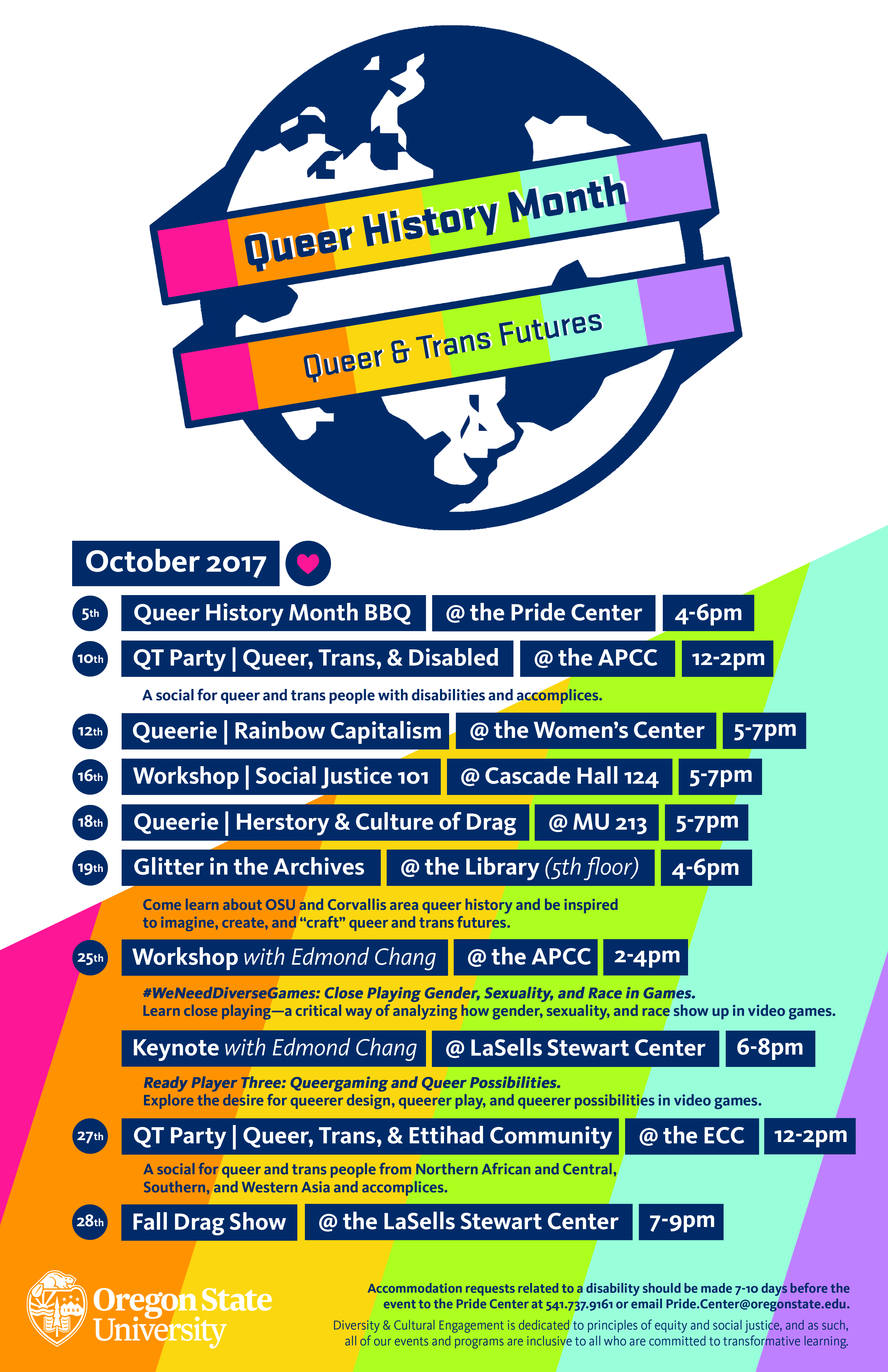 Here are the workshop and keynote descriptions:
Workshop @ the APCC (2-4 PM)
#WeNeedDiverseGames: Close Playing Gender, Sexuality, and Race in Games
In Gaming (2006), Alexander Galloway argues, "Video games render social realities into playable form" and "play is a symbolic action for larger issues in culture."  As gaming communities and the gaming industry attempt to address the need for diversity and inclusion in games, how might we understand how the algorithmic underpinnings of programming and game design allow for and problematically constrain and recuperate queerness and difference?  Or how might we unpack the ways characters of color are often rendered as either lighter-skinned protagonists or darker-skinned enemies?  Central to this workshop is the definition and demonstration of close playing or critical ways of analyzing, engaging, and even teaching games to address gender, sexuality, and race in digital games.
Keynote @ LaSells Stewart Center (6-8 PM):
Ready Player Three: Queergaming and Queer Possibilities
Given recent critiques of the lack of diversity in digital games and their subsequent backlashes, this talk examines the many ways games are stereotypical and normative particularly regarding gender, sexuality, and race even as gamers and developers evince their promises of power, freedom, and play with identities.  In particular, how might we think about ways to play games and design games that take advantage of the affordances of code and computers as well as the happy accidents, workarounds, and transformations that provide alternative practices, opportunities, and endgames?  Is it even possible to create a queer video game given the binary underpinnings of digital computers?  Finally, how might we imagine queergaming, ways of playing against the grain, against normative design, and ways of designing gamic experiences that foreground not only alternative narrative opportunities but ludic ones as well.  Queergaming embraces the possibilities of alternative play, the uncertainty of glitches and exploits, and the desire for queer worlds as opportunities for different rules and goals.  Looking at a range of games, from mainstream bestsellers to independent titles, this presentation hopes to define the need for more than queer content or window dressing in games but for queerer design, queerer play, and queerer possibilities.
Both workshop and keynote will be on Wednesday, October 25, 2017 at Oregon State University.  See the OSU Pride Center's FB page for further details: https://www.facebook.com/OSUPrideCenter/.