I have won two prestigious awards for my teaching and my research in literature, technology, cultural studies, and digital humanities.
2009 UW Excellence in Teaching Award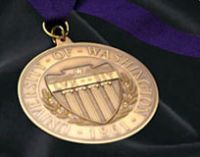 I was selected as one of two graduate students from across all departments at the University of Washington to be awarded the UW Excellence in Teaching Award.  According to the UW Teaching Academy, award recipients are "honored for demonstration of extraordinary ability in the teaching and learning process."  It was a great honor to be recognized for the effort and dedication and innovation I put into my classes and my teaching.  In particular, I strive to balance cutting-edge with grounded practices, including the ways I address and integrate digital media and classroom technology.
According to the UW Today story on the award, one of my students wrote in her letter of nomination:  "Every time I read a book, watch a movie or see something as innocuous as a commercial, I hear his voice in my mind, asking me questions. 'What does this mean?'  I hear Ed asking. 'How may I use this media to better understand my world, my society and myself?' I am no longer a passive observer in my own life; I am actively engaged in the media I consume, in the lectures I listen to and in the worlds I speak and write in."  This is the kind of curiosity and attention to social, material, and intellectual contexts that I hope  inspire in my students.  (See also my philosophy of teaching and statement on teaching (with) technology.)
2011 K. Patricia Cross Future Leaders Award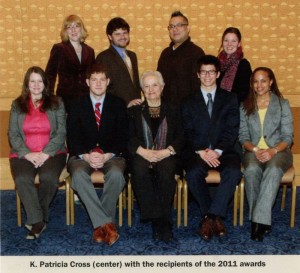 I was honored with the K. Patricia Cross Future Leaders Award at the annual meeting of the Association of American Colleges and Universities (AAC&U) in San Francisco in January 2011.  I was one of eight graduate students from institutions across the country who, according to the AAC&U website, "show exemplary promise as future leaders of higher education; who demonstrate a commitment to developing academic and civic responsibility in themselves and others; and whose work reflects a strong emphasis on teaching and learning."  In my personal statement, I stressed the importance of innovative teaching, collaboration and interdisciplinarity, and the benefits of a liberal arts education.
Moreover, at a panel featuring all of the award recipients called "Faculty of the Future: Voices from the Next Generation," I presented on my research and my pedagogy in conversation with the other grad students.  The roundtable discussion was informed, genuine, at times cautious, and at times funny.  It was important for everyone to express why it was important for us to be a teacher, a scholar, and a practitioner.  The keywords and thematics that ran through the morning session included valuing education more, passion for learning, parents who loved education, families who stressed learning and exploration, asking questions (a lot of questions), curiosity, developing relationships as part of teaching and learning, teaching as a calling, being addicted to teaching, student expectations, inter- and multi-disciplinarity, collaborative learning, collaborative teaching, tenure, listening, modeling, and the desire to see a cultural shift that reframes education as important in practice, in resources, and in zeitgeist.  The panel gave me the opportunity to talk about the need for technocultural studies, for digital humanities, and to address questions about twenty-first century students and classrooms.  (See also my statement on teaching (with) technology.)
I was also given the opportunity to serve as the only graduate student blogger at the annual meeting for the AAC&U website.  One of my posts was on the opening night forum by Mark C. Taylor (Columbia University) on "globalizing education" and restructuring the current state (and business) of higher education.  According to Taylor, colleges and universities must develop creative uses of new media and communication technologies, develop new models of revenue and efficiency, and change to meet the needs of students in the twenty-first century.  In my blog response, I address the plenary's broad technological and globalizational fixes and the need for a critical understanding of how and why technology works, how and why it works, and who (and who does not) benefit from its implementation.
---
For other sections of my portfolio, go to: