A generous curation of (mostly) digital writing, projects, artifacts, ideas, practices, and courses. Please contact me for more information.
Designing & Making
"What are the Digital Humanities So Straight?"
An academic essay in the form of an executable BASIC program. The essay can be run on a BASIC emulator and reads and plays as a text adventure game.


Wingtopia
ARG/LARP for the "Asian American Arcade" exhibit, Wing Luke Museum, February 2012.
"Playing (with) Power: Video Games and the Fantasies of Control."
Podcast for the Simpson Center for the Humanities, in conjunction On the Boards theatre's presentation of Rimini Protokoll's performance of Best Before. May 2010.

Tellings is a pen-and-paper, high fantasy role-playing game. Tellings is a point-based, skills-based RPG, featuring a robust character creation, 100+ skills, 75+ character strengths and weaknesses, a distinct magic and prayer system, and unique fluid-time combat mechanics.

Archaea Live-Action Role-Playing and Wargaming is an independent medieval, high fantasy live-action role-playing and padded-weapon wargaming (LARP/W) game system.
 Archaea: Bane cooperative card game based on the world of my live-action role-playing system.
Writing & Creating
Technoqueer: Re/Con/Figuring Posthuman Narratives
Dissertation, University of Washington, November 2012.
"Queer." Digital Pedagogy in the Humanities: Concepts, Models, and Experiments. Eds. Rebecca Frost Davis, Matthew K. Gold, Katherine D. Harris, and Jentery Sayers. Modern Language Association, forthcoming 2016.
"Cards Against Humanity is __________." Digital presentation for the Queerness and Games Conference, University of California, Berkeley, October 2014. Essay published at First Person Scholar, March 2015.
"Gaming as Writing, Or, World of Warcraft as World of Wordcraft." August/September 2008 for Computers and Composition Online special issue on "Reading Games: Composition, Literacy, and Video Gaming." Eds. Richard Colby and Rebekah Shultz Colby.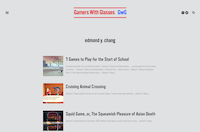 Contributing Editor of Gamers with Glasses:

"Squid Game, or, The Squeamish Pleasure of Asian Death." October 26, 2021.
"7 Games to Play for the Start of School." September 6, 2021.
"10 Games to Play for Earth Day." With Alenda Y. Chang. April 21, 2021.
"Cruising Animal Crossing." February 12, 2021.
"Playing Games, Practicing Utopia: A Life in Tabletop Gaming." September 26, 2020.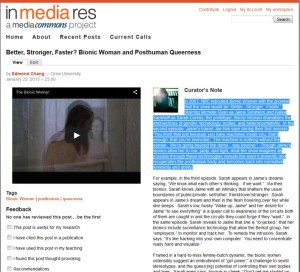 In Media Res: A Media Commons Project:

"Queer Dystopias, Queer Mechanics, and Queers in Love at the End of the World." Queerness in Games week. May 2020.
Pokemon Go, Queer Spaces, and Queer Contact," Pokemon Go week, October 2016.
"Better, Stronger, Faster? Bionic Woman and Posthuman Queerness," Post-human, Super-intelligent, Dream Girls week, January 2015.
"The Last Human: Doctor Who and Anxieties Over the Posthuman," Doctor Who week, December 2013.
"'Would You Kindly?': Bioshock and Posthuman Choice," Posthumanism and Media week, March 2011.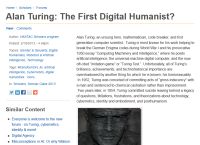 HASTAC: Humanities, Arts, Science, and Technology Advanced Collaboratory:

"Alan Turing: The First Digital Humanist?" HASTAC Scholars Forum, co-wrote and developed the forum prompt, organizing questions, and invited prominent academics and practitioners to participate in the public forum.
HASTAC Distributed Book Review of Race After the Internet (Eds, Lisa Nakamura and Peter Chow-White). Reviewed Chapter 12: "Roots and Revelation: Genetic Ancestry Testing and the YouTube Generation" by Alondra Nelson & Jeong Won Hwang.
"Press Start to Continue: Toward a New Video Game Studies" HASTAC Scholars Forum, co-developed and wrote the forum prompt, organizing questions, and invited prominent academics and practitioners to participate in the public forum.
Critical Gaming Project @ University of Washington
Organizer, Contributor, Instructor, 2007-2012.
e.g., the UW's Online Journal of 100-Level Writing
Editor, Contributor, Webmaster, Expository Writing Program, Autumn 2007-2012.
English Graduate Student Organization
Contributor and Webmaster, 2007-2012.
The Birth of the Cyberqueer Manifesto
MA Thesis, University of Maryland, 2005.
Playing & Collaborating
Teaching & Presenting
Teaching Portfolio
Teaching Philosophy, Evaluations, and Sample Materials.
Comparative History of Ideas (CHID) Focus Group Courses on Video Game Studies
Two-credit discussion-based courses, including: "Bioshock: Cyborg Morality and Posthuman Choice," "Why So Serious?: Video Games as Persuasion, Politics, and Propaganda," "Keywords for Video Game Studies," "Close Playing, or Bioshock as Practicum," and "Video+Games+Other+Media."
"Brown Skins, White Avatars: Racebending and Straightwashing in Digital Games." Invited talk. Part of the UCSB Multicultural Center's Race Matters Series, UC Santa Barbara, Santa Barbara, CA, January 26, 2016.
"Towards a (New) Video Game Pedagogy: Critical Players and Gameful Assignments." Invited workshop. For the Digital Pedagogy Workshops and Digital Currents series, Institute for the Humanities, University of Michigan, Ann Arbor, MI, January 16, 2015.
"Queer (Im)Possibility and Straightwashing in Digital Games." Invited talk. Part of the Five College Digital Humanities Speaker Series, Smith College, Northampton, MA, November 21, 2014.
"The Seductions of Gamification." Invited workshop and keynote address. Boise State THATCamp, Boise State University, October 2012.
Close Playing, or, Bioshock as Practicum
UW Teaching and Learning Symposium, 2011.
Save Points: Teaching (with) Video Games
2010 UW Teaching and Learning Symposium.
Keywords for Video Game Studies Roundtable
Cultural Studies Association, March 2010.
Virtual Worlds & Video Games
ENGL 207: Introduction to Cultural Studies, Winter 2009, Fall 2009 & Spring 2010.
UW Excellence in Teaching Award
UW Teaching Academy, 2009.
Becoming Technoliterate: Engaging Undergraduates in Technoculture Studies Research
Presenter, Research Exposed!, Undergraduate Research Program, Autumn 2007.
ENGL111: Composition with Literature Courses on New Media, including: "Imagining Cyberspace" and "Everyday Media: Reading, Writing, and Critiquing."