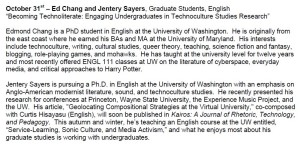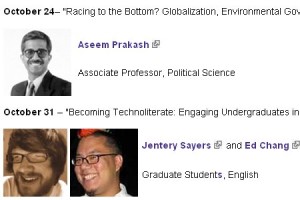 In Autumn 2007, I was invited to present my work on World of Warcraft to undergraduate students as part of the Research Exposed! course.  Made possible by the Odegaard Undergraduate Library and Learning Commons, the Undergraduate Research Program, and Undergraduate Academic Affairs, Research Exposed! (GEN ST 391) offers the students an opportunity to learn about current research in a wide variety of disciplines, including the process of discovery, how faculty come up with an idea for research, how inquiry is structured in the different disciplines, and how students can become involved in the knowledge-making process.  My colleague Jentery Sayers organized the presentation entitled "Becoming Technoliterate: Engaging Undergraduates in Technoculture Studies Research."
The Research Exposed! presentation gave me the opportunity to speak to a large group of undergraduates about my work in technoculture and video game studies.  I found the session to be energizing and the students were enthusiastic, engaged, and asked insightful questions (it was also Halloween and many were dressed-up).  It is always a challenge to translate your work and your arguments for different audiences, and I realized the importance of being inclusive and attentive to different familiarities with theories and texts I was using.
The program allowed me to introduce students to my work as an English graduate student who works with more than just books and traditional media.  I also talked about how I bring my research into my classes and my teaching.  It also provided an opportunity to invite them to participate in collaboratories like the Critical Gaming Project.
---
For more detailed information on my teaching, see the following:
---
For other sections of my portfolio, go to: