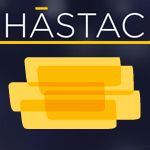 I have been nominated and sponsored as a HASTAC Scholar by the Simpson Center for the Humanities at UW for the past four years now.  HASTAC ("haystack") is a consortium of individuals and institutions interested in and inspired by the possibilities that new technologies offer how we learn, teach, communicate, create, and organize communities.  HASTAC is dedicated to interdisciplinary and collaborative work between the humanities, arts, sciences, and technology.   The HASTAC Scholars fellowship program invites primarily graduate students to report on their work and on the work happening on their campuses, to network with the online HASTAC community and with their local communities, and to develop and contribute to regular discussion forums on the HASTAC web site.  To date, it has been a fruitful and intellectually-engaging experience to see and interact with the breadth and depth of work being done by other graduate students and scholars.  It has been important for me to join, navigate, and collaborate with different communities within and outside of the UW.
In 2009-10, I contributed to conversation series entitled "What Does Digital Scholarship Do?" that brought together HASTAC Scholars at UW from a wide array of disciplines to present their work at the Simpson Center.  I organized a co-sponsored session called "Queer/ing/s Online" between the HASTAC Scholars and the Queer+Public+Performance graduate working group presented on "Playing and Queering World of Warcraft."  I also helped put together an online forum for HASTAC called "Democratizing Knowledge," serving as moderator, commenter, and collaborator.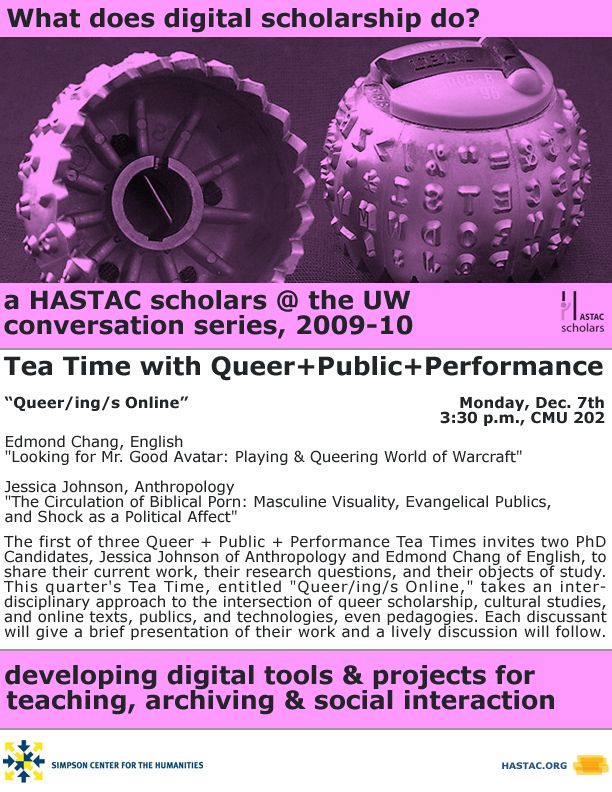 In 2010-11, I organized a graduate interest group called "Keywords for Video Game Studies," bringing together graduate students from various departments interested in critical approaches to video games.  On top of receiving funding for the group from the Simpson Center, I proposed that all of the graduate students in the group also be nominated and sponsored as HASTAC Scholars.  I served as lead organizer for our year-long series of discussion groups and workshops on key terms like "play," "avatar," and "immersion/interactivity," culminating in a one-day "Gamer+Gamification" colloquium.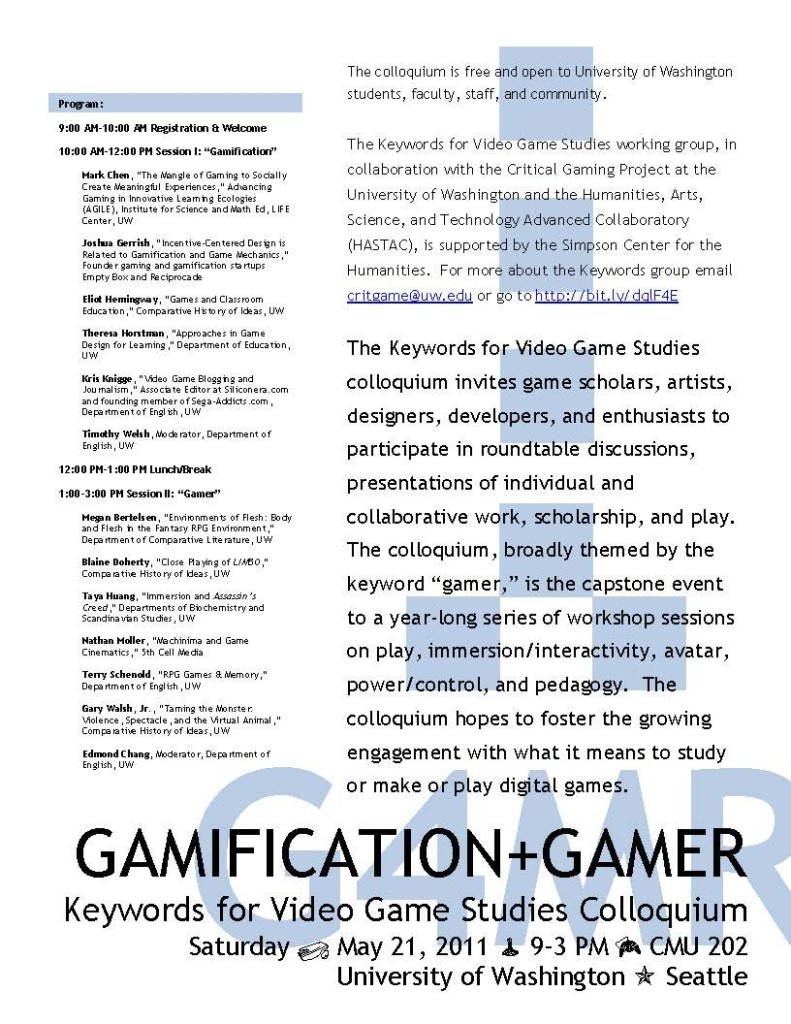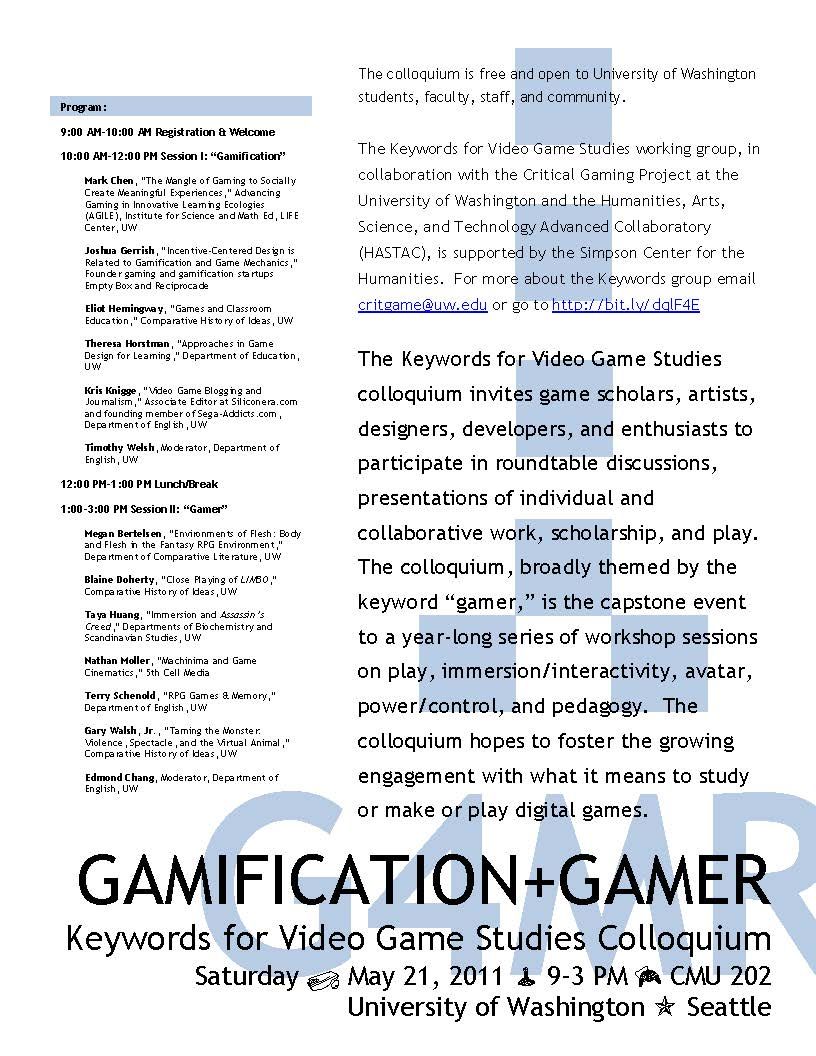 In 2011-12 year, I continued to lead the Keywords GIG, which was renewed by the Simpson Center, and we continued to represent the UW as HASTAC Scholars that year.  The group helped write, organize, and publish an online forum via the HASTAC website entitled "Press Start to Continue: Toward a New Video Game Studies," which was featured February/March 2012.  And in our second year, we tackled key terms like "democracy," "time," and "gold farming," ending in a second end-of-year colloquium on "Research/Design."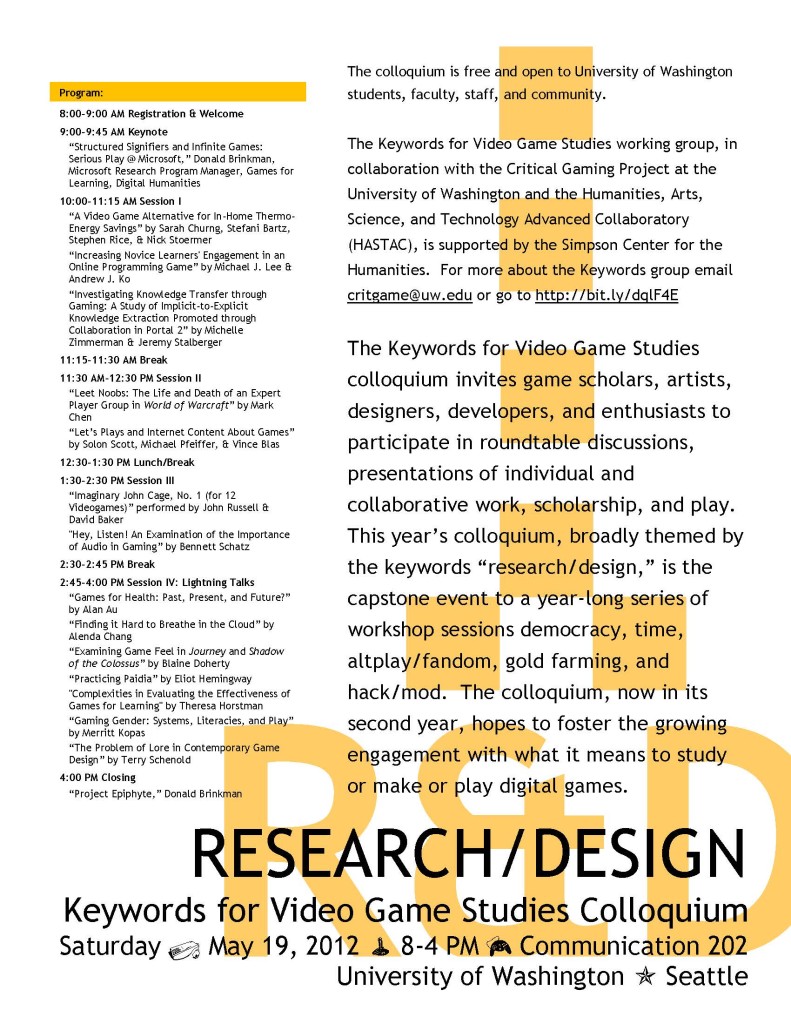 For the 2012-13 academic year, I will continue to serve as a HASTAC Scholar and to help the Simpson Center develop its digital humanities initiatives.  In March 2012, HASTAC Scholars "crowdsourced" and published online an academic book review of Race After the Internet (Eds, Lisa Nakamura and Peter Chow-White).  I reviewed Chapter 12: "Roots and Revelation: Genetic Ancestry Testing and the YouTube Generation" by Alondra Nelson & Jeong Won Hwang.  I also helped write and organize another HASTAC forum entitled "Alan Turing: The First Digital Humanist?," which was featured February/March 2013.  In the spring, the HASTAC Scholars also held a roundtable called "How Do I Use Social Media as An Academic."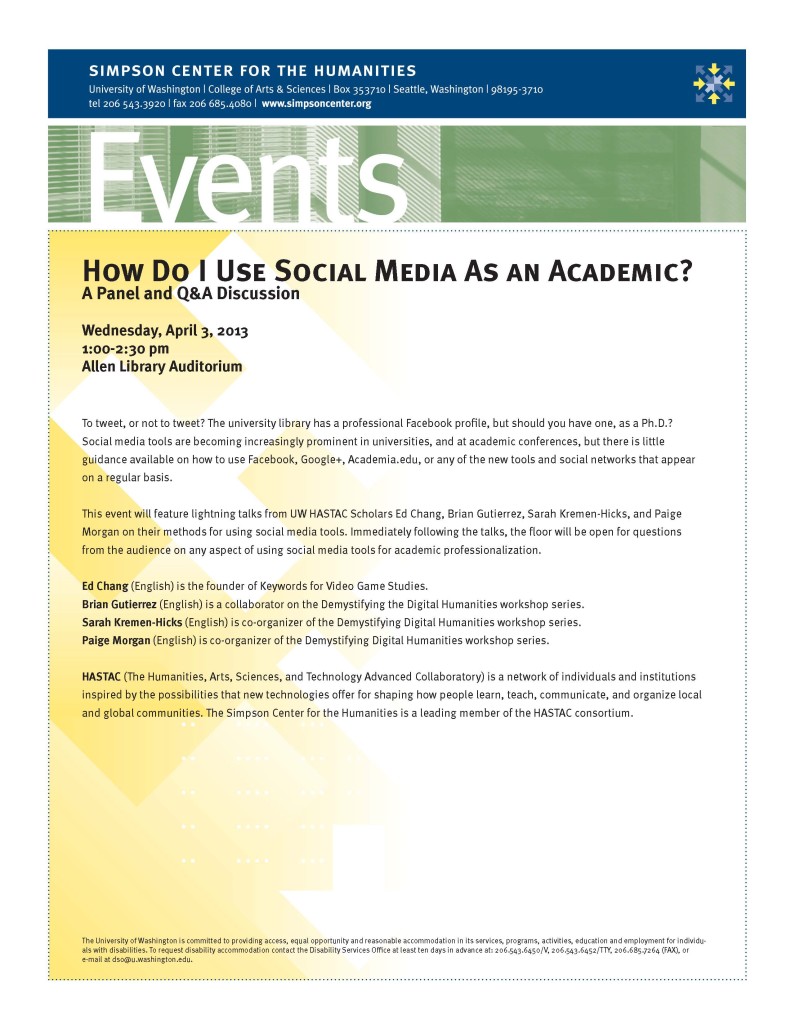 And at the end of the 2012-13 school year, I was the lead organizer for the Keywords for Video Game Studies's end of school year colloquium in May 2013, which this year was a THATCamp (The Humanities and Technology Camp) called THATCamp Epic Play 2013.

---
For other sections of my portfolio, go to: