I am thrilled that OHIO's School of Theater is mounting a production of Qui Nguyen's She Kills Monsters, a play that I have included in a number of my courses these past few years including ENG 3550: World Literature as World Making (Autumn 2019) and ENG 2100: Critical Approaches to Fantasy Literature (Autumn 2018). The play, as described by Wikipedia:
tells the story of Agnes Evans, an average woman who loses her parents and little sister Tilly in a car accident. Having been very distant from her sister while she was alive, Agnes embarks in an adventure to get to know her sister better by playing a Dungeons & Dragons module that Tilly had written, and discovers things she'd never imagined. The plot takes place in reality and in the imaginary game world; in the game world Agnes learns about Tilly's exploration with her sexuality and how she struggled with her sexuality in reality.

https://en.wikipedia.org/wiki/She_Kills_Monsters
Through the auspices of two of my students from last term (who are actors in the show), I have been invited to do two Talk Backs after the show: one on Saturday, February 22 and one on Wednesday, February 26.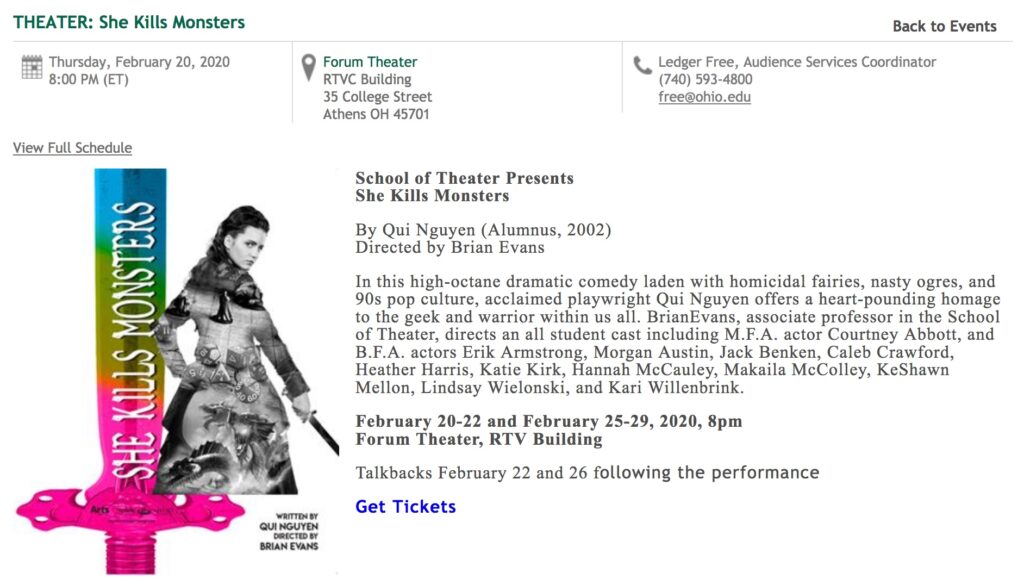 I am looking forward to see what they do with the play, how they are going to do the D&D moments, and what choices (if any) they make regarding the play's characters, situations, and themes. I do know they are doing the "original" version of the play instead of the much more common (and watered down) version for high schools. Let the game begin!