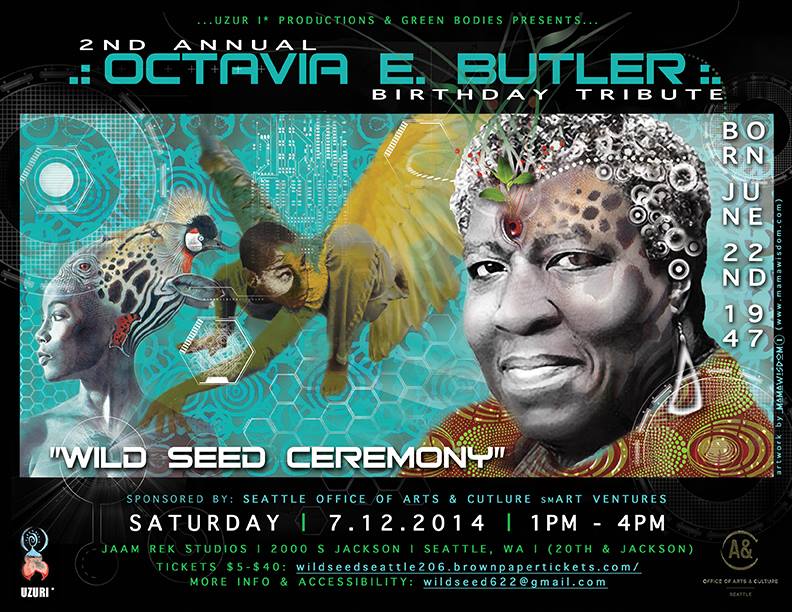 WILD SEED: a Community Celebration of Science Fiction author Octavia E. Butler
Join us Saturday, July 12, 2014, 1:00 – 4:00 p.m. for WILD SEED, a community celebration of Butler's storytelling and the social, environmental, and creative themes she explored in her novels and short stories. Meet in Edwin T. Pratt Park in Seattle's Central district (1800 S. Main Street, 98144) at 1:00 p.m. for a short opening ceremony followed by a brief procession to Jaam Rek, 2000 Jackson Street at 20th Avenue South (Metro bus routes #14 or #27). Once inside we'll enjoy performances, readings, a seed exchange, and light refreshments. The main program includes readings from Butler's novel Wild Seed, spoken word, music by Felicia Loud, and other performances evoking the spirit of futuristic fiction. We will share seed packets as a pledge for our Planet Earth.
General admission tickets / suggested donation at the door: $10. No one will be turned away for lack of funds.
Seniors (age 62 +): $5
Youth (age 18 and under): $5″The Sower" ticket: $40. When you purchase this ticket, your generosity helps others to participate and helps us compensate participating artists.
The acclaimed Ms. Butler moved to Seattle in 1999 and passed away here in 2006. Wild Seed is expected to draw a full house composed of culturally diverse and progressive speculative and science fiction enthusiasts of all ages. Facilities will be ADA accessible. Please note that this is a fragrance-free event.
The event includes the exhibition Xenology: Drawing in Response to Octavia Butler's Dawn, curated by Megan Hyde and Sue Shon. The Xenology drawing project visualizes the Oankali alien species in Octavia Butler's brilliant novel Dawn. Via drawing, over twenty participants, including formally trained and amateur artists, imagine the Oankali as described in the text.As both an extension and an expansion of Dawn, the collection of drawings can be considered a "xenology": an intense, interrogating study of what becomes perceived, categorized, and known as "the foreign." The curators hope that the project leads new readers to Dawn, and invite everyone to compose a drawing of their own at the Wild Seed event.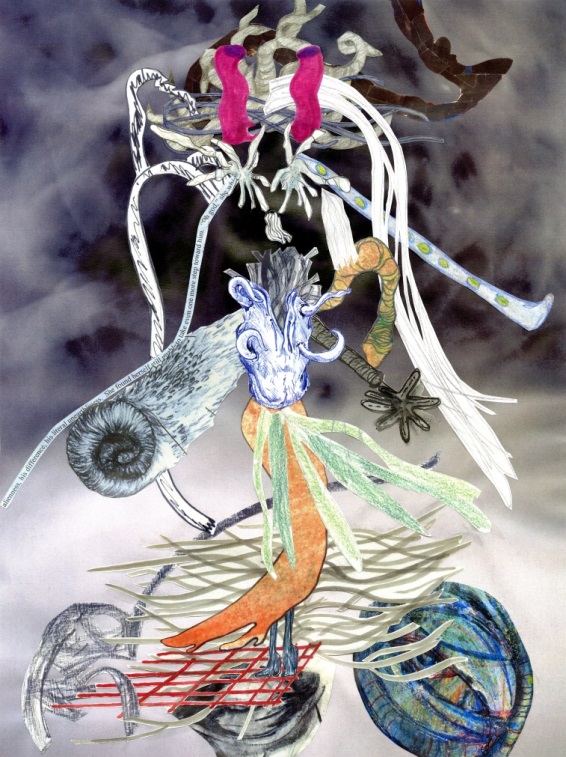 Megan Hyde
Xenology Collage, 2014
Collage on paper
16 x 12 inches
Wild Seed is based on Ms. Butler's Patternist Series of books involving time travel, immortality, human to animal transformations, and key characters voyaging from Africa to Colonial America to establish new communities. This program follows last June's Octavia Butler Birthday tribute held at Elliott Bay Books, and the Octavia Butler program held at EMP on February 28, which drew a sold out crowd of 300 Butler fans, and included performers Cat from Thee Satisfaction and Gabriel Teodros, and a presentation by the national anthology project Octavia's Brood.
Wild Seed supports and reinforces a creative, progressive futuristic literary vision for all readers, writers and artists.
BROWN PAPER TICKETS: http://bpt.me/728034
TWITTER: @WildSeedSeattle
FACEBOOK: https://www.facebook.com/events/1431633050433329/
EMAIL: wildseed622@gmail.com
EVENT PRODUCTION: Uzuri Productions
POSTER ARTWORK: Nikila Badua (MamaWisdom1), https://www.behance.net/mamawisdom1