I am looking forward to my sister Alenda Chang is coming to Drew University to give a talk, sponsored by the Environmental Studies and Sustainability program (I designed the poster):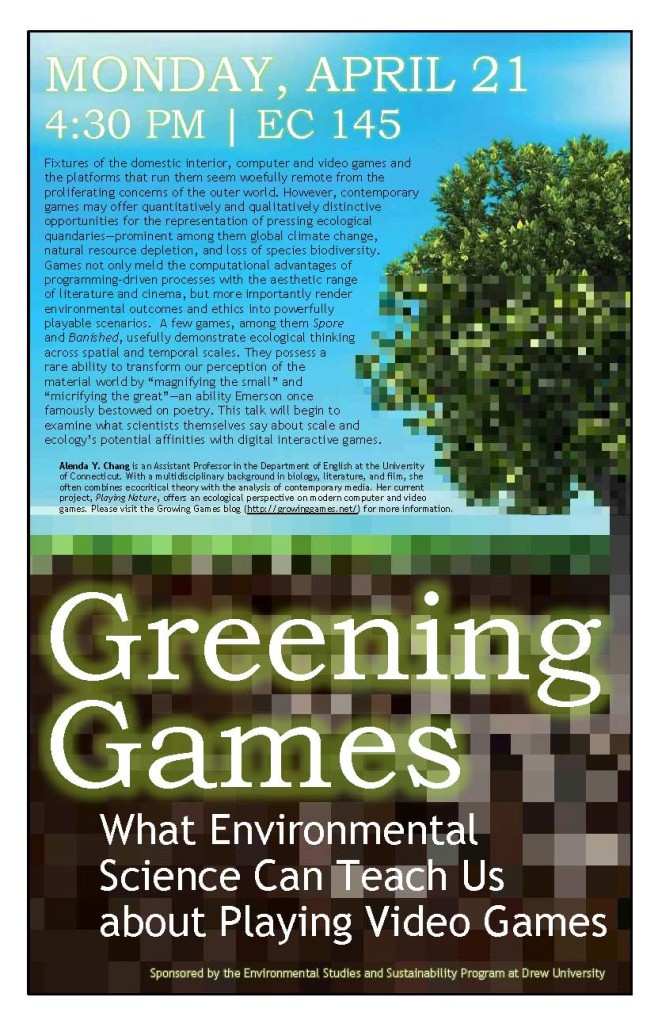 Greening Games: What Environmental Science Can Teach Us about Playing Video Games
Monday, April 21, 2014
Ehinger Center (EC) 145
4:30 PM
Fixtures of the domestic interior, computer and video games and the platforms that run them seem woefully remote from the proliferating concerns of the outer world. However, contemporary games may offer quantitatively and qualitatively distinctive opportunities for the representation of pressing ecological quandaries—prominent among them global climate change, natural resource depletion, and loss of species biodiversity.  Games not only meld the computational advantages of programming-driven processes with the aesthetic range of literature and cinema, but more importantly render environmental outcomes and ethics into powerfully playable scenarios.  A few games, among them Spore and Banished, usefully demonstrate ecological thinking across spatial and temporal scales. They possess a rare ability to transform our perception of the material world by "magnifying the small" and "micrifying the great"—an ability Emerson once famously bestowed on poetry. This talk will begin to examine what scientists themselves say about scale and ecology's potential affinities with digital interactive games.
Alenda Y. Chang is an Assistant Professor in the Department of English at the University of Connecticut. With a multidisciplinary background in biology, literature, and film, she often combines ecocritical theory with the analysis of contemporary media. Her current project, Playing Nature, offers an ecological perspective on modern computer and video games. Please visit the Growing Games blog (http://growinggames.net/) for more information.