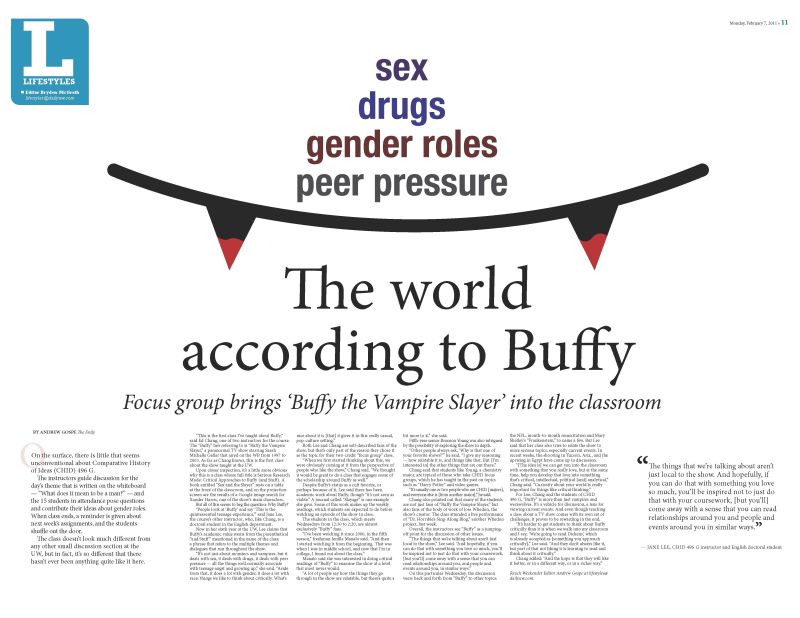 The 2-credit focus group class that my friend and colleague Jane Lee and I are teaching on Buffy the Vampire Slayer was featured in UW's The Daily today:
The World According to Buffy

By Andrew Gospe
February 7, 2011

On the surface, there is little that seems unconventional about Comparative History of Ideas (CHID) 496 G.

Instructors Jane Lee and Ed Chang discuss the day's topic in CHID 496 G, a class about "Buffy the Vampire Slayer."

The instructors guide discussion for the day's theme that is written on the whiteboard — "What does it mean to be a man?" — and the 15 students in attendance pose questions and contribute their ideas about gender roles. When class ends, a reminder is given about next week's assignments, and the students shuffle out the door.

The class doesn't look much different from any other small discussion section at the UW, but in fact, it's so different that there hasn't ever been anything quite like it here.

"This is the first class I've taught about Buffy," said Ed Chang, one of two instructors for the course. The "Buffy" he's referring to is "Buffy the Vampire Slayer," a paranormal TV show starring Sarah Michelle Gellar that aired on the WB from 1997 to 2003. As far as Chang knows, this is the first class about the show taught at the UW.

Upon closer inspection, it's a little more obvious why this is a class whose full title is Serious Research Mode: Critical Approaches to Buffy (and Stuff). A book entitled "Sex and the Slayer" rests on a table at the front of the classroom, and on the projection screen are the results of a Google image search for Xander Harris, one of the show's main characters.

But all of this seems to beg the question: Why Buffy?
Full text here: http://dailyuw.com/2011/2/7/world-according-buffy/