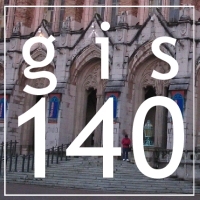 Section A
Last taught Summer 2007-08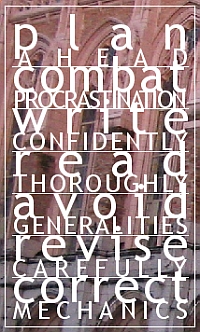 © 2005-07 Edmond Chang. All original material. All rights reserved. Email the webmaster of this site.
These pages are best viewed with Mozilla Firefox or Internet Explorer. Open your browser to the largest viewable area.
These pages are hosted by the University of Washington Computing & Communications system.
GIS 140: Writing, Reading, Thinking Ready Assignments (Section A, Early Fall Quarter 2007-08)
Listed below are the assignment sheets, worksheets, exercises, and peer review sheets that will be assigned or used during the quarter. Each student will recieve a copy of each as a handout in class during the appropriate week. If you miss a sheet, feel free to print out a new copy. Feel free to look ahead at the assignments to come, but keep in mind that sheets may be updated and are subject to change over the quarter.
SEQUENCE ONE/WEEK ONE:
     Week 1.0: Writing Center Visit
     Week 1.0: Rhetorical Situations
     Week 1.0: Strength and Weaknesses Inventory
     Example of a Short Paper Assignment (Formatting)
     Short Paper 1.1: What is Literacy?
     Short Paper 1.3: One Main Point
     Revision 1.4: Literacy Narrative Draft
     SEQUENCE ONE MAJOR PAPER 1.5: Literacy Narrative
     Example of a Major Paper Assignment (Formatting)
SEQUENCE TWO/WEEKS TWO & THREE:
     Week 2.0: Strength and Difficulty Inventory II
     Week 2.0: Process Journal--Reading
     Week 2.0: Research Scavenger Hunt
     Week 2.0: Process Journal--Responding to Comments
     Short Paper 2.1: Summary Of Freire
     Short Paper 2.2: Close Reading Draft
     Workshop 2.2: Close Reading the Close Reading
     Short Paper 2.3: Close Reading Of
     Short Paper 2.4: Research Question & Narrative
     Short Paper 2.5: Annotated Bibliography
     Short Paper 2.6: Literature Review
     Revision 2.7: Read-Search Project Draft
     SEQUENCE TWO MAJOR PAPER 2.8: Read-Search Project
     Week 3.0: Strength and Difficulty Inventory III
     Week 3.0: Another Writing Center Visit
     Week 3.0: Campus Resource Presentation
     Week 3.0: GIS 140 Town Hall Worksheet
SEQUENCE THREE/WEEK FOUR:
     Week 4.0: Strength and Difficulty Inventory IV
     Short Paper 3.1: Prospective Claim
     Workshop 3.1: Prospective Claim Worksheet
     Short Paper 3.2: Close Reading the Process Journal
     Revision 3.3: Prospective Cover Letter Draft
     SEQUENCE THREE MAJOR PAPER 3.4: Prospective Cover Letter